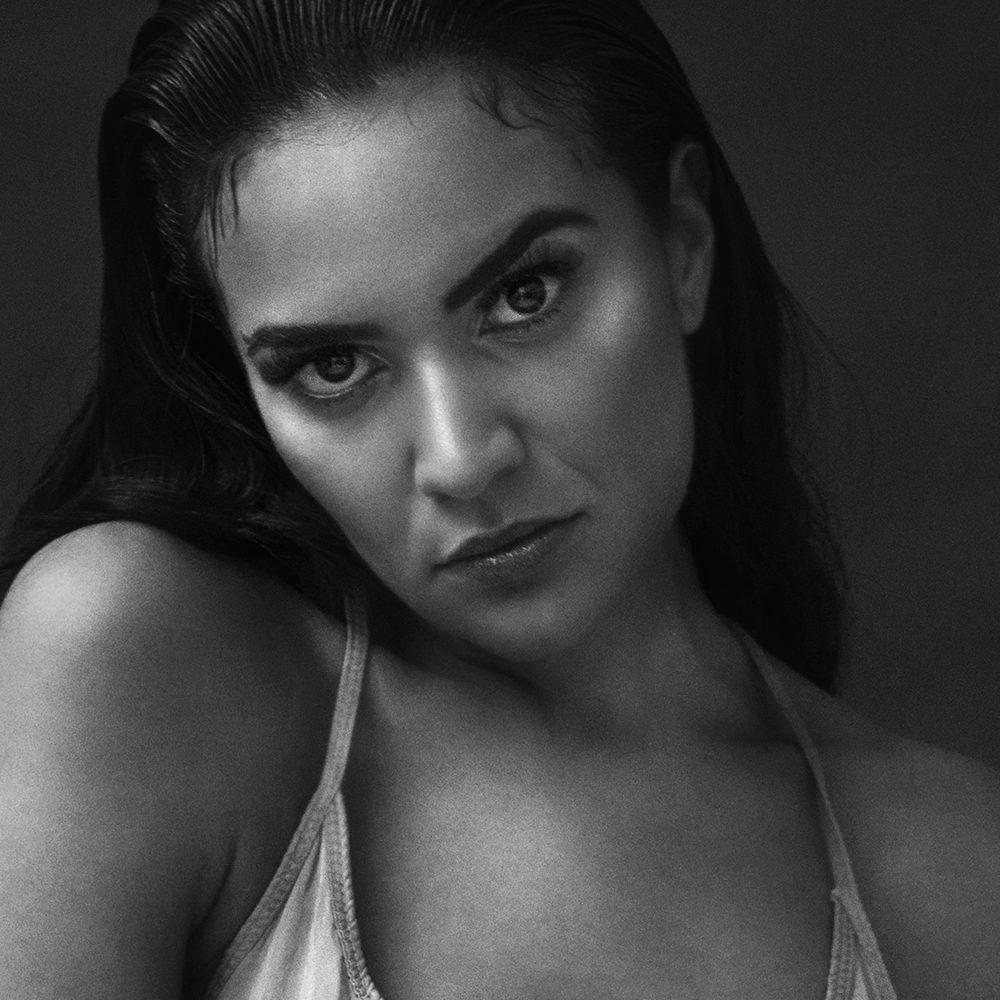 Biography
---
Tunisia, Austria and Switzerland are the roots of Moo Malika and music is what makes her flourish. She still remembers well her father's Arabic lullabies, with which he always sang her to sleep. Her family is also very musical and so it is not surprising that Moo Malika discovered her love for music at an early age. At school she got top marks for her favourite subject of music and she took part in many talent shows and singing competitions to gain experience.
Music is the elixir that animates Moo and from which she draws love for herself and the world. She writes songs about everything in her life – that is her way of processing what she lives.
She spent the past months in the studio to record her songs with the renowned producer Ben Mühletaler [Prince, Aura Dione, Seven, Craig David and many more]. After concluding a label contract with profimedia followed a trip to Germany, to write another song together with Daniel Volpe [Monrose, Mandy Capristo, Paty Cantù, Jermaine Jackson and many more]. The song was afterwards produced in Berlin by Ricardo Bettiol and the vocals were recorded by Ben Mühletaler.
The result is a song called FIRELIGHT, inspired by the 80s and the love for the unknown. Moo: "It was indescribably great to write and record FIRELIGHT with such great people and musicians, a song that has become as beautiful as it is powerful and brings people a lot of sunshine and a good feeling". FIRELIGHT is the long awaited first single by Moo Malika.
GERMAN
Tunesien, Österreich und die Schweiz sind die Wurzeln von Moo Malika und die Musik das, was sie aufblühen lässt. Sie erinnert sich noch gut an die arabischen Gute-Nachtlieder ihres Vaters, mit welchen er sie stets in den Schlaf gesungen hat. Auch sonst ist ihre Familie sehr musikalisch und daher verwundert es nicht, dass Moo Malika bereits früh ihre Liebe zur Musik entdeckt hat. In der Schule holte sie sich bei ihrem Lieblingsfach Musik jeweils Bestnoten und nahm, um Erfahrungen zu sammeln, an vielen Talentshows und Gesangswettbewerben teil. Musik ist das Elixier, welches Moo belebt und woraus sie Liebe für sich und die Welt schöpft. Über alles in ihrem Leben schreibt sie Songs – ihre Art, das Gelebte zu verarbeiten.
Info zum Song
Die vergangenen Monate verbrachte Moo Malika viel Zeit im Studio, um ihre Songs mit dem renommierten Produzenten Ben Mühletaler (Prince, Aura Dione, Seven, Craig David uvm.) aufzunehmen. Nach dem Start der Zusammenarbeit mit profimedia folgte eine Reise nach Deutschland, um zusammen mit Daniel Volpe (Monrose, Mandy Capristo, Paty Cantù, Jermaine Jackson uvm.) einen weiteren Song zu schreiben. Dieser wurde anschliessend in Berlin bei Ricardo Bettiol produziert und die Vocals dazu bei Ben Mühletaler aufgenommen. Das Resultat ist ein von den 80er Jahren und der Liebe zum Unbekannten inspirierter Song mit dem Namen FIRELIGHT. Moo: "Es ist unbeschreiblich toll, mit welch grossartigen Menschen und Musikern ich FIRELIGHT schreiben und aufnehmen durfte. Ein Song der genauso schön wie kraftvoll geworden ist und den Menschen viel Sonne und ein gutes Gefühl bringt".
---
---
Booking contacts
Agency: profimedia
Phone: 0041 (0)91 630 29 28
Website: moomalika.com
Email: info@profimedia.ch
---
---
Download/Stream Music on keyboard_arrow_down
---