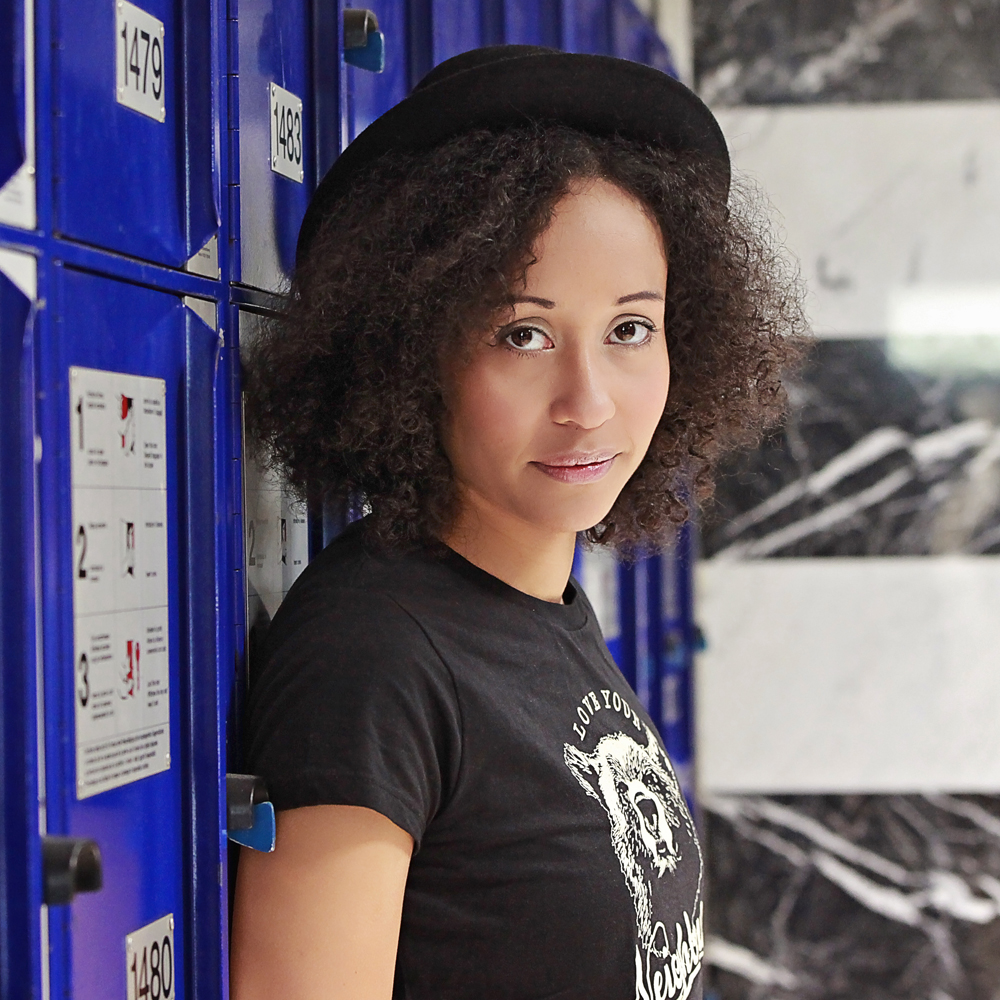 Biography
---
Lucerne's Melissa Lischer currently lives in Zurich. In the fall of 2012 she signed a label deal with profimedia and on February 22, 2013, she released her first single '"Come Closer', produced by Toby Meyer. A videoclip made for this wonderful folk pop song has had more than 70,000 views in the meantime. "Come Closer" was not only played on many radio stations in Switzerland but first and foremost in Brazil, where the song at times counted amongst the 10 most popular listener songs on one of the biggest stations.
Melissa was only six years of age when sh began to sing and make music with great. At sixteen she was lead singer for the locally known big band "Föhn" from Kriens (Lucerne), together with Lea Bissig. This was followed by first recordings and appearances in the Stadtkeller Lucerne, at the Lucerne Music Festival and the Willisau Jazz Festival. Several years of vocal training and an education as a singer/songwriter with Andy Dossenbach, the renowned Swiss song-coach, as well as lessons in piano and guitar molded Melissa Lischer into a musician with a terrific perspective for her musical journey as a solo artist.
At the beginning of the year 2014 Melissa Lischer was busy for weeks with the recordings for her debut album 'The Creation', released that same year. For the first single 'Roots' a video clip was filmed on Mallorca – a song that definitely awakened the first summer feelings and was again rotated on many radio stations. The album, for which she wrote all songs herself, was produced by Andreas Schibä" Scheiben (Klangmalerei), Dan Suter (Echochamber) was responsible for the mastering.
After many concerts, one of which in the Culture and Convention Centre Lucerne (KKL), Melissa Lischer released her single 'Color Explosions', produced by Toby Meyer, on March 2016. The video clip for the song was filmed by iwish productions with much investment in the Grisons mountains.
Melissa Lischer on 'Color Explosions': "The song talks about creativity, colors and imaginations that go beyond our thinking."
Melissa Lischer's new single "Honest Song" emphasizes particularly the musical and personal evolution she did during the last years.
With her label profimedia she looked for the sound she desired and this resulted in a cooperation with Rockstar Publishing and Creative Lounge in Mallorca. In December 2017 the flights toward the island were booked and with Rico H (BobSpring, AnnA Lux, Inge Ginsberg, Clarice) and Van Velvet (Falko, Alexa Feser, Yvonne Catterfeld) she produced "Honest Song". They registrated two other acoustic songs: "Autumn" und "Black Bird" as bonus at the pubblication. Rico H: "Create a new sound for an established artist is never easy. We invested a lot of time to get exactly what Melissa imagined. Thanks to her fantastic voice and big professionalism we managed it and the whole team is happy about the great result."
Melissa didn't lose her joy in telling stories and inluding sensitive issues in her music, but otherwise we can hear a new Melissa Lischer, approachable and exciting like never before.
"Honest Song" was released on the 3rd of February 2017.
GERMAN
Die Schweizerin Melissa Lischer wohnt zur Zeit in Zürich. Im Herbst 2012 unterschrieb Melissa Lischer bei profimedia einen Labelvertrag und veröffentlichte am 22. Februar 2013 mit "Come Closer" ihre erste Single, welche von Toby Meyer produziert wurde. Zu diesem wunderbaren Folk-Pop Song wurde auch ein Videoclip veröffentlicht, welcher mittlerweile über 70'000 Views hat. "Come Closer" wurde nicht nur in der Schweiz von vielen Radiostationen gespielt, sondern vor allem auch in Brasilien, wo der Song bei einer der grössten Radiostationen des Landes zeitweise zu den 10 beliebtesten Songs der Hörerschaft gehörte.
Bereits mit 6 Jahren begann Melissa Lischer mit grosser Begeisterung zu singen und musizieren. Mit 16 Jahren war sie, zusammen mit Lea Bissig, Leadsängerin bei der lokal bekannten Big Band "Föhn" aus Kriens (Luzern). Es folgten unter anderem Auftritte im Stadtkeller Luzern, Luzerner Musikfest, Willisauer Jazzfestival, sowie die ersten CD-Aufnahmen. Langjährige Gesangsschulung und eine Ausbildung zur Singer-/ Songwriterin bei Andy Dossenbach, dem renommierten Song-Coach der Schweiz, sowie Unterricht in Klavier und Gitarre, formten Melissa Lischer zu einer Musikerin mit einer tollen Perspektive für ihre musikalische Reise als Solointerpretin.
Mit Beginn des Jahres 2014 war Melissa Lischer wochenlang mit den Aufnahmen für ihr Debut Album "The Creation" beschäftigt, welches im selben Jahr veröffentlicht wurde. Zur ersten Singleauskopplung "Roots" wurde auf Mallorca ein Videoclip gedreht – ein Song der definitiv die ersten Sommergefühle weckte und wieder bei vielen Radiostationen in Rotation kam. Produziert wurde das Album, bei welchem alle Songs von Melissa Lischer selber geschrieben wurden, von Andreas "Schibä" Scheiben (Klangmalerei) und das Mastering erfolgte durch Dan Suter (Echochamber).
Nach vielen Konzerten, unter anderem im Kunst und Kongresszentrum Luzern (KKL), veröffentlichte Melissa Lischer im März 2016 die Single "Color Explosions". Der Videoclip dazu wurde mit grossem Aufwand von iwish productions in den Bündner Bergen gedreht.
Melissa Lischer zu "Color Explosions": "Der Song handelt von Kreativität, Farben und Vorstellungen die über unser Denken hinausgehen".
In den vergangenen Jahren hat sich Melissa Lischer musikalisch, sowie persönlich weiterentwickelt, was nun besonders bei ihrer neuen Single "Honest Song" zum tragen kommt.
Mit ihrem Label profimedia auf der Suche nach dem Sound ihrer Wünsche, ergab sich eine Zusammenarbeit mit Rockstar Publishing und Creative Lounge in Mallorca. Im Dezember 2017 wurden die Flüge auf die Insel gebucht und "Honest Song" mit Rico H (BobSpring, AnnA Lux, Inge Ginsberg, Clarice) und Van Velvet (Falko, Alexa Feser, Yvonne Catterfeld) produziert, sowie zusätzlich, als Bonus zur Singleveröffentlichung, die akustik Songs "Autumn" und "Black Bird" aufgenommen. Dazu Rico H: "Einen neuen Sound für eine etablierte Künstlerin zu generieren ist nie einfach. Wir haben viel Zeit investiert um genau das hin zu bekommen, was Melissa im Kopf hatte. Dank der fantastischen Stimme und der grossen Professionalität von Melissa hat dies erstaunlich gut geklappt und das ganze Team ist happy mit dem tollen Resultat."
Was sich bei Melissa Lischer nicht geändert hat, ist ihre Freude am Erzählen von Geschichten und sensible Themen musikalisch zu verpacken. Ansonsten ist eine neue Melissa Lischer zu hören, so nahbar und spannend wie nie zuvor.
"Honest Song" wurde am 3. Februar 2017 veröffentlicht.
---
---
Booking contacts
Agency: profimedia
Phone: 0041 (0)91 630 29 28
Website: melissalischer.ch
Email: info@profimedia.ch
---
---
Download/Stream Music on keyboard_arrow_down
---