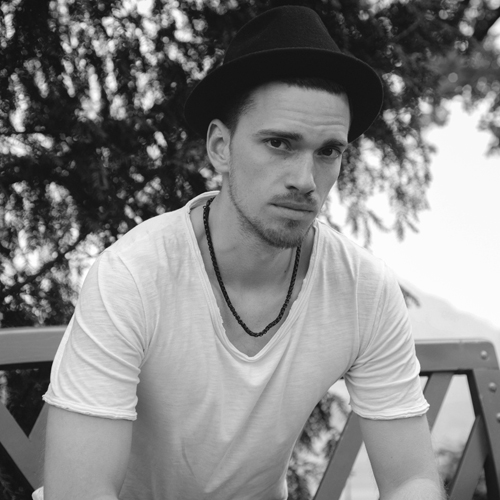 Biography
---
Hello. They call me «Lerocque». Born in the psychological depths of a sensitive guy. Manifested in a mysterious voice. For too long I've been suppressed. This silence has echoed too loud and too long. Now my time has come. They say talk is silver. Silence is golden. Bullshit. A true friend is like a second self. I will break this curse. For us. There are too many things weighting on my shoulders. It's all too heavy to bear. This needs to change. Everything must change. Each whisper relieves. Every scream redeems. There are things that need to be said. Now my time has come.
Hello. My name is Pedro Rodrigues, singer of the band «One Day Remains». Born in Portugal and raised in Switzerland. I'm enjoying a sincere life with wonderful friends and a family with strong cohesion. I am a positive and balanced guy and I like to laugh a lot. What I like to do even more is to make other people laugh. I owe many good things in my life to music. It was and will always be there for me, that's why music's one of the few lifelong constants. Despite a fulfilling role within «One Day Remains», I always had a gnawing desire for something that's completely mine. Something raw, dark, profoundly honest and thrilling. This was the basic idea. To give this idea an identity, I dug into my little dusty box of memories and brought out to light the name of my alter ego, which was created when I was a teenager, and inhaled new life into it: The reincarnation of «Lerocque»!
GERMAN
Hallo. Man nennt mich «Lerocque». Geboren in den seelischen Abgründen eines sensiblen Typen. Manifestiert in einer mysteriösen Stimme. Viel zu lange wurde ich unterdrückt. Diese Stille hallte zu lange zu laut. Nun ist meine Zeit gekommen. Man sagt Reden ist silber. Schweigen ist gold. Bullshit. Ein wahrer Freund ist gleichsam ein zweites Selbst. Und für uns durchbreche ich diesen Fluch. Es lastet so Vieles zu schwer auf meinen Schultern. Es muss raus. Alles muss raus. Jedes flüstern befreit. Jedes schreien erlöst. Es gibt Dinge die gesagt werden müssen. Nun ist meine Zeit gekommen.
Hallo. Mein Name ist Pedro Rodrigues, Sänger der Band «One Day Remains». Geboren in Portugal und nach ein paar Jahren mit meinen Eltern in die Schweiz ausgewandert. Ich geniesse ich ein aufrichtiges Leben mit wundervollen Freunden und einer Familie mit starkem Zusammenhalt. Ich bin ein aufgestellter und ausgeglichener Typ und lache sehr gerne. Was ich noch lieber tue ist, Andere zum Lachen zu bringen. Ich habe viel Gutes in meinem Leben der Musik zu verdanken. Sie war immer da und wird immer da bleiben und ist damit eines der wenigen lebenslangen Konstanten. Trotz einer erfüllenden Rolle bei «One Day Remains», nagte stets auch der Wunsch nach etwas komplett Eigenem in mir. Etwas rohes, düsteres, tiefschürfend ehrliches und mitreissendes. Dies war die Grundidee. Um der Idee eine Identität zu geben, wühlte ich in meiner kleinen, staubigen Erinnerungskiste und nahm den Namen meines Alter Egos aus Teenagerjahren hervor, um ihm neues Leben einzuhauchen: Die Reinkarnation von «Lerocque»!
---