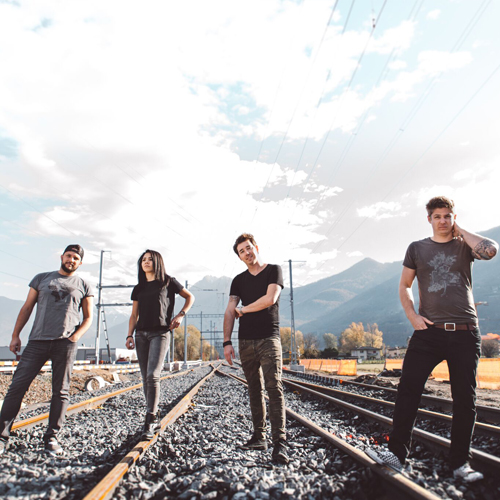 Biography
---
Not much happens in Ticino during winter usually. Maybe it is for this very reason that four musicians got together on a cold winter night in the year 2015 with the vision to cause a stir with English-language Rock, not just in Ticino but beyond. United under the name F. Way, Fabiano Wildi "Febo" (lead vocals and rhythm guitar), Andrea Rusconi (lead guitar and backing vocals), Eveline Lucchini (bass and backing vocals) and Mattia Fux (drums) started writing songs and doing concerts together. With a lot of energy and passion they did everything they could to continually evolve their skills and gain as much live and studio experience as possible. This started paying of quickly. Already in October 2015 they got to celebrate their first success when they won the FOFT MUSIC competition and shortly after signed a label contract with profimedia in December. At the same time the four promising musicians went to a studio to record their first own songs.
Until now in all we have released four singles and a first music video for "Valery".
Plays on Radio SRF3, Rete Tre, Radio 3i, Radio Fiume, Radio Swiss Pop, Radio Sunshine, Radio Munot and many other radio stations. The music video is transmited, amongst others, by the Swiss television.
GERMAN
Im Winter geschehen im Tessin normalerweise keine grossen Sachen, oder vielleicht gerade darum fanden vier Musiker an einem kalten Winterabend im Jahre 2014 zusammen, motiviert als Band über das Tessin hinaus mit englischsprachigem Rock für Aufsehen zu sorgen. Vereint unter dem Namen F. Way schrieben Fabiano Wildi (Gesang und Gitarre), Andrea Rusconi (Gitarre und Gesang), Andre Sampaio (Bass und Backing Vocals) und Roberto Bianchetti (Schlagzeug) ab sofort zusammen Songs und wurden Konzerte veranstaltet. Mit viel Energie und Leidenschaft wurde alles unternommen, um sich stetig weiter zu entwickeln und möglichst viele Live- und Studioerfahrungen zu sammeln. Dies begann sich schnell auszuzahlen: Bereits im Oktober 2015 durfte man mit dem Gewinn des FOFT MUSIC Wettbewerbes einen ersten Erfolg feiern und unterzeichnete kurz darauf im Dezember bei profimedia einen Labelvertrag. Zur gleichen Zeit begaben sich die vier vielversprechenden Musiker ins Studio, um ihre ersten eigenen Songs aufzunehmen. Mit "Taking All My Fears Away" wurde im April 2016 die erste Single veröffentlicht, welche umgehend von vielen Radios in die Playlist genommen wurde und die Medien sehr positiv darüber berichteten.
Die zweite Single "Valery" wurde im Juni 2016, inklusive dem ersten Musikvideo von F. Way, veröffentlicht. "Valery" wird von SRF3, Rete Tre, Radio 3i, Radio Fiume und weiteren Radiostationen im Tagesprogramm gespielt und das Musikvideo unter anderem vom Schweizer Fernsehen ausgestrahlt.
Nach zwei kraftvollen Rocksongs veröffentlichte F. Way mit "None Of Us" eine wunderschöne Rockballade. Es ist noch eine ihrer unerforschten Seiten, aber man erkennt auch bei diesem Song das grosse Potential dieser jungen Truppe aus dem Kanton Tessin. Die dritte Single wurde wiederum von Jonas Macullo produziert und von Marco Guarnerio arrangiert. Bei Freundschaften geht es darum die schönen aber auch die schlechten Moment zu teilen und oft merkt man dies leider erst, wenn man die Freunde nicht mehr hat. Sich dies bewusst zu sein und niemanden alleine zu lassen, um dieses Thema geht es beim Song "None Of Us".
---
---
Booking contacts
Agency: profimedia
Phone: 0041 (0)91 630 29 28
Website: fwaymusic.com
Email: info@profimedia.ch
---
---
Download/Stream Music on keyboard_arrow_down
---