Transformation by Moo Malika
---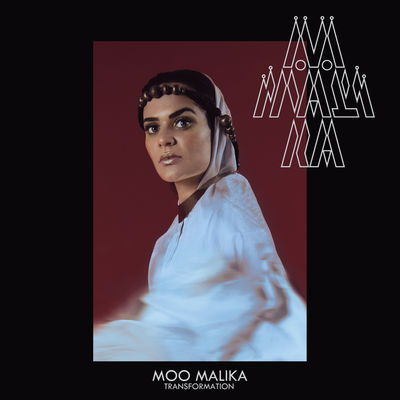 She had been preparing for this for a long time, and with the single FIRELIGHT Moo Malika finally released her song in the summer of 2018. The feedback was overwhelming- Moo Malika became known as the latest great discovery in contemporary pop music in Switzerland. The motivated young woman from the city of Berne is only just getting started, and on 2 November 2018 her EP "Transformation" will be released. Apart from the single "Firelight" there are four more songs on the record. They were all produced by the Grammy nominee and winner of multiple gold and platinum records, Ben Mühlethaler.
Moo Malika has roots in Tunisia, Austria and Switzerland, and her equally broad taste in music from an early age was an indicator for Moo's potential to become a multi-faceted artist who refuses to be forced into a box. She still remembers the Arabic lullabies of her father, with whom he sang her to sleep. Also otherwise Her family is very musical in general and therefore it is not surprising that Moo Malika discovered her love for music at an early age. At school she got excellent marks for her favourite subject of music and she was soon allowed to sing the most difficult solos at various school concerts. In addition, she took part in many talent shows and singing competitions to gain experience and she made it onto national television several times. However, the young visionary wanted more: For Moo, music has always been the elixir of life from which she draws strength and love for herself as well as for the world, even in the most difficult situations. That's why she writes songs about her every-day life- it's her outlet, her way to process her experiences.
The first song on the EP "Transformation" is called "Queen." In this song, Moo describes the cause for her on-going transformation. The song was born from a situation where Moo felt lost and uncomfortable in her own skin and then managed to gather her strength to get out of that situation. The following song "Unfaithful Bastard" helped Moo get over her ex-boyfriend and put an end to the drugs and the chaos in her life. The song "You!" describes Moo's deeply personal and emotional story of how she learned to fall in love again and to allow old wounds to heal. Inner Demon" deals with Moo's Tourette disease, which was diagnosed when she was four years old and almost completely disappeared in her adolescence. The disease only really reappeared when Moo stopped using drugs. She knew she would have to learn to live with Tourette for good, and by writing a song about it, she shortened the process. The album concludes with the song "Firelight. "Transformation" is a touching, intimate and fascinating work by a young woman who has proven to herself and the whole world that a new start is possible at any time. Moo Malika: " For a long time I wasn't sure if I should release these extremely personal songs. I ended up deciding to do it because I want to encourage people in similar situations. After all, I myself was happy when I was younger and found songs which expressed what I couldn't put into words myself. I can't think of anything more touching for any artist than the knowledge that their music touches hearts and minds of others."
Sehr lange hatte sie sich darauf vorbereitet und mit der Single FIRELIGHT veröffentlichte Moo Malika dann Mitte 2018 endlich ihren ersten Song. Die Rückmeldungen waren überwältigend – seitdem gilt sie als riesige Entdeckung der aktuellen Popmusik. Die Bernerin legt nun erst richtig los und am 2. November 2018 erscheint ihre EP "Transformation". Neben der Single Firelight befinden sich vier weitere Songs auf der Platte, welche allesamt mit dem Grammy-nominierten und mehrfach Gold- und Platinum-Produzenten Ben Mühlethaler produziert wurden.
Tunesien, Österreich und die Schweiz sind die Wurzeln von Moo. Ihr ebenfalls so breit gefächerter Musikgeschmack, welcher von Hiphop über Rock bis hin zu elektronischer Musik reicht, zeigte bereits im Kindesalter, dass Moo zu einer facettenreichen Künstlerin heranwachsen kann und sich nicht in Schemata zwängen lässt. Sie erinnert sich noch gut an die arabischen Gute-Nacht-Lieder ihres Vaters, mit welchen er sie in den Schlaf gesungen hat. Auch sonst ist ihre Familie sehr musikalisch und daher verwundert es nicht, dass Moo Malika bereits früh ihre Liebe zur Musik entdeckt hat. In der Schule holte sie sich bei ihrem Lieblingsfach Musik jeweils Bestnoten und durfte schon bald an diversen Schulkonzerten die anspruchsvollsten Solos singen. Zusätzlich nahm sie, um Erfahrungen zu sammeln, an vielen Talentshows und Gesangswettbewerben teil und schaffte es damit mehrmals ins nationale Fernsehen. Genug hatte die exotische Visionärin dann jedoch noch lange nicht, denn die Musik ist das Elixier, welches Moo Kraft gibt und woraus sie auch in schwierigsten Situationen Liebe für sich und die Welt schöpft. Auch deshalb schreibt sie über alles in ihrem Leben Songs – ihre Art, das Erlebte zu verarbeiten.
Die EP "Transformation" beginnt mit dem Song "Queen". In diesem Song beschreibt sie den Auslöser für ihren spannenden Wandel. Als sie ihr Leben analysierte fiel ihr auf, wie ungesund ihre Lebensumstände waren und machte sich Mut, um aus dieser Situation herauszukommen. Der darauffolgende Song "Unfaithful Bastard" war ihre Hilfe, um über ihren Ex-Freund hinwegzukommen und somit auch unter die Drogen und das Chaos in ihrem Leben einen Schlussstrich zu ziehen. Mit dem Song "You!" gewährt Moo tiefste Einblicke in ihre Gefühle; denn sie erzählt uns, wie sie auf ein Neues lernte, sich zu verlieben und die Heilung alter Wunden zuzulassen. Der nächste Song "Inner Demon" thematisiert ihre Tourette-Erkrankung, welche ihr mit vier Jahren diagnostiziert wurde und im Jugendalter fast gänzlich verschwand. Die Erkrankung kam erst wieder richtig zum Vorschein, als Moo keine Drogen mehr konsumierte. Sie wusste, dass sie nun endgültig lernen musste, mit Tourette zu leben, weshalb sie den Prozess verkürzen wollte – und auch darüber einen Song schrieb. Mit "Firelight" wird die EP Transformation abgeschlossen. Ein ergreifendes, intimes und faszinierendes Werk von einer jungen Frau, die sich und der ganzen Welt bewiesen hat, dass ein Neustart jederzeit möglich ist. Moo Malika: "Lange habe ich mir überlegt, ob ich diese extrem persönlichen Songs veröffentlichen soll. Aber da ich Menschen in ähnlichen Situationen Mut zusprechen will, entschied ich mich dafür. Auch ich war damals froh, als ich Lieder fand die ausdrückten was ich selber nicht in Worte fassen konnte. Ich kann mir nichts Schöneres für einen Künstler vorstellen, als die Berührung von Herzen durch seine Musik."
---